This year, Argentum launched the first Senior Living Leaders Under 40 recognition program. Responses poured in from all segments of the industry, describing the achievements of everyone from seasoned executives driving company growth to a college student who founded a nonprofit to involve youth in the fight against Alzheimer's disease.
Each nomination was filled with heartfelt stories of dedication, passion, and innovation. Despite their busy schedules, these industry leaders take time to build relationships with senior living residents, mentor their peers, and contribute to worthy causes. Their accomplishments are featured in this issue, and the leaders will be recognized at the 2017 Argentum Senior Living Executive Conference in Nashville. Meet the visionaries who are leading us to the future of senior living.
---
JESSICA ANDREWS
Senior Vice President  |  Merrill Gardens |  Age: 35
JESSICA ANDREWS is adept at using technology to transform her workplace. As senior vice president of operating systems and analytics at Merrill Gardens, Andrews has implemented a technology overhaul, bringing Tableau data and analytics to community teams who previously had great difficulty receiving vital information. She revamped
the role of the business office directors at the communities, leading to an increase in expense control and reporting from 33 communities in six states. These efforts helped the company achieve a ten percent year over year NOI increase over the past two years. It's no wonder that Andrews was promoted to her current role after just 18 months at Merrill Gardens.
Prior to joining the company, Andrews worked at Aegis Senior Living, where she led the strategic implementation of Electronic Health Records and Electronic Medication Administration Records (EMAR) through Yardi. In addition, she integrated Tableau software into the company's operating systems, providing clear information for community teams to see and understand their data in real time. She also led the revenue management team at Aegis to increase its revenue significantly year-over-year.
---
ADAM BENTON
Senior Vice President  |  Stellar Senior Living |  Age: 35
Adam Benton left a successful career on Wall Street to become more involved in directly aiding the lives of others. In 2012, at the age of 29, he co-founded Stellar Senior Living, which now owns and operates more than 1,000 assisted living, independent living, and memory care residences. In order to enhance the lives of people with Alzheimer's disease and related dementias, Benton spearheaded an effort to establish the company's Rising Stars program. The program is built around the idea that life can continue to be fulfilling even when dementia affects one's daily activities. Rising Stars uses interventions such as music and pet therapy to achieve its goals. Every Stellar community is now required to have a service dog, and residents are encouraged to listen to music from their childhoods. Today the Rising Stars program is an essential part of Stellar and a key expression of its core values.
As a board member for the Utah Chapter of the Alzheimer's Association, Benton is responsible for the advocacy group that interfaces with elected officials and government offices. He has met with members of Congress to educate them about dementia and the growing need for additional funding and research.
---
TOMMY COMER
Vice President of Human Resources  |  Commonwealth Senior Living  |  Age: 34
Tommy Comer chose a career in senior living because he wanted to be part of an industry where the "human" aspect of human resources mattered. Since 2014 he has been responsible for directing the human resources functions at Commonwealth Senior Living. In that role he has taken the lead on two significant initiatives for Commonwealth. He led the process to create Commonwealth Cares, Inc., a 501(c)(3) charity functioning as an employee assistance fund for Commonwealth associates. In its first year, the fund raised over $130,000 through vendor donations, employee payroll deductions, and fundraisers that included a golf tournament. More than $100,000 of the funds raised were awarded to more than 40 associates in times of financial need throughout 2016.
In response to increasingly challenging recruiting and hiring environments in many senior living markets, Comer also led the development of Commonwealth's "Hiring for Heart" program. The program is designed to find, train, and develop associates who have no prior experience in or exposure to senior living. In the first six months of its implementation, the program helped Commonwealth recruit, hire, and retain more than 50 new associates.
Comer serves on the Senior Care Human Resources Executive Summit Board ("SHINE") and on the Argentum Human Resources Executive Roundtable.
---
CARRIE DELANEY
Divisional Vice President of Sales & Marketing  |  Integral Senior Living |  Age: 37
Carrie Delaney is motivated to improve the lives of seniors and to promote the senior living industry. As divisional vice president of sales and marketing at Integral Senior Living, she proactively manages the sales and marketing efforts of nearly 60 communities, and is noted for her positivity, passion, and strong work ethic.
Delaney was instrumental in creating Integral Sales Leadership, a sales and marketing training program for all department heads and directors of sales and marketing in the organization. She worked with a colleague to develop training material to create a customer service, hospitality, and sales-driven culture within her communities. This has provided year-over-year growth within the company since its inception in 2014. In addition, Delaney served as an active member of the committee formed to launch Integral Senior Living's industry-leading Vibrant Life Activity Program.
As an advocate for improving senior care as a whole, Delaney educates lawmakers about senior living options for their constituents. She presented at a senior living industry panel at UCLA and spoke to current students about career opportunities in the senior living industry. She also has been a part of the Argentum Sales & Marketing Executive Roundtable, as one of the nation's emerging leaders in sales and marketing.
---
GEOFF EBNER
Vice President of Senior Living National Accounts & Technology Solution Sales  |  Direct Supply  |  Age: 37
Geoff Ebner has a true passion for serving the customers and seniors in the senior living industry, where has more than 15 years of experience. Geoff started his career at Direct Supply as an inside account manager and quickly moved into national accounts, where he's spent the last 13 years working with top executives from the largest senior living operators.
As vice president of senior living national accounts and technology solution sales, Ebner has helped build a number of unique programs for operators to address trending challenges like rising acuity. He is also highly engaged in community-based technologies, including current solutions and emerging technologies.
Ebner is tuned into the senior living industry and has served on committees with the National Center for Assisted Living and Wisconsin Assisted Living Association (WALA) – one of Argentum's state partners. He can often be found at LeadingAge events, including Leadership Summits and Chief Executive events. Currently, Geoff serves on the Board of Directors for WALA to help steer the future of assisted living in Wisconsin.
---
AMY FOUTS
Regional Director of Operations  |  Capri Communities LLC  |  Age: 29
Amy Fouts hit the ground running when she began her career as assistant executive director at Casa del Mare, a Capri community in Kenosha, Wisconsin. Coming onboard during the construction and pre-leasing period, Fouts and team achieved 100% occupancy for the community faster than any community in the company's history. Her leadership reduced employee turnover to the lowest level in the company and established systems that maintained 100% compliance with all quality standards and regulations. Casa del Mare was named "Best Assisted Living in Kenosha" and Fouts was nominated by her team for Best Boss in the annual "Best of Kenosha" publication. Not surprisingly, she was promoted to executive director of the community in less than two years.
To accommodate Fouts' rapid progression within the company, Capri created the new position of regional director of operations. Now responsible for hundreds of assisted living and memory care residences, Fouts maintains occupancy averages at all of her communities at or greater than 90%. She also became the lead regional director responsible for implementing a unique assisted living integration into an independent living setting (called Enhanced Services Program) now being replicated throughout the country as a way to manage the flow of residents through the continuum of care.
---
STEPHANIE HILDEBRANT
Executive Director of Assisted Living  |  Caretel Inns of America  |  Age: 38
Stephanie Hildebrant brings a zest for personal growth to her role in leading Caretel Inns of America's 16 assisted living communities throughout the state of Michigan. Hildebrant uses her education and experience to develop the future leaders of the organization while helping Caretel grow its business. She has earned advanced degrees in nursing, business administration, and law, several of which were earned while she worked full time. Her love of numbers is a primary asset that has enabled her to combine profitable operations with quality of care in the direction of Caretel's communities.
In addition to managing the overall operations of the organization's assisted living communities, which are licensed as adult foster care, Hildebrant was responsible for overseeing the development of six new Inns during the past five years. Supervising the construction and opening included everything from donning a hard hat for multiple inspections to ordering the furniture. Just as importantly, Hildebrant focuses daily efforts on enabling residents to live to their maximum potential despite any limitations. She works to improve their living environment and provide them with dignity, value, and importance.
---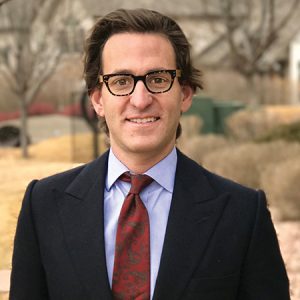 BRADLEY KRAUS
President and Chief Operating Officer  |  Spectrum Retirement Communities  |  Age: 30
Bradley Kraus entered senior living through a background in real estate investment banking and a degree in hotel administration. He effectively leverages these credentials in his recently attained role of president and chief operating officer of Spectrum Retirement Communities. Kraus has worked for Spectrum for the last four years, previously in the role of senior vice president of business development.
In his new role as president and chief operating officer, Kraus is responsible for overseeing all facets of the company's day-to-day operations for 33 senior living communities in 12 states, which employ a staff of more than 2,600.
His experiences in management and investment have empowered him to provide dynamic leadership to the Spectrum team, and his knowledge and success have made him a sought-after speaker in the field. Kraus has been instrumental in positioning the company for its current and future growth. With 13 communities currently under construction, the company is poised for expansion.
---
 ALEXIS MARTINI
Vice President of Operations  |  Greenfield Senior Living  |  Age: 35
Alexis Martini was inspired to enter the senior living industry after serving as primary caregiver for her father, grandmother, and great-grandmother. In her role as vice president of operations at Greenfield Senior Living, she balances business acumen with an equally strong focus on the human side of senior living.
True to her caregiving background, Martini regards Greenfield's residents as her number one priority. She interacts frequently with the residents and their families. When a resident passes away, Martini personally calls the family and often attends memorial services. She once drove three hours in a snowstorm to get to her community to make sure the residents and staff had everything they needed.
Martini has received several Greenfield awards including those for top line revenue growth, census growth, fastest turnaround of an acquired asset, and highest resident and customer satisfaction score. She shares her success by helping to support and grow those staff members accomplishing the day-to-day work at Greenfield. Her dedication to mentoring team members has helped a dishwasher advance to executive director, a concierge to regional director of sales, and resident aides into nurses and business office team members.
---
JAMES MCFADDIN
Partner  |  Southern Strategy Group  |  Age: 38
James McFaddin, a partner in Southern Strategy Group, is an influential lobbyist who helps organizations accomplish their governmental relations goals. His career is built on a foundation that includes previous posts as director of government affairs at a Fortune 500 hospital company and chief of staff for the Florida Agency for Health Care Administration.
McFaddin and Southern Strategy Group have represented Florida Argentum since its inception in fall 2012. At that time, the political climate for senior living providers in the state was very unsteady. McFaddin began to immediately educate legislators, staffers, the governor, and other industry stakeholders about the new organization and the senior living field.
Due largely to McFaddin's dedication, Argentum is now the go-to senior living association for professionally managed communities for state lawmakers, their staff, and state agency staff looking for trusted information and resources from the industry. With McFaddin's assistance, Florida Argentum has achieved many legislative victories over the years. Successes include the 2015 passage of hallmark assisted living reform strengthening oversight to prevent bad actors from operating in the state, and the 2016 passage of legislation to update an antiquated fire and life safety code. McFaddin's strategic advice on navigating the complex world of policy and politics has allowed Florida Argentum to establish a meaningful Political Action Committee to support likeminded legislators who continue to be supportive of the interests of seniors and providers.
---
LEIA MORRISON
Executive Director  |  Hancock County Senior Services  |  Age: 36
Leia Morrison has been something of a miracle worker for Hancock County Senior Services in Illinois. She came onboard in 2012 when the agency was having difficulty filling its 20-apartment supportive living community. Under her leadership the community not only achieved full occupancy, but acquired a waiting list of more than 50 people. In response to the increased demand, the agency opened an expansion in December 2016 with 22 additional apartments. Two memory care communities with ten studio apartments each were also built. These are the first of their kind in Illinois and are at full capacity with a waiting list.
In 2016, Morrison was recognized in her region as one of the "20 Under 40" professionals to watch. Morrison also was elected as an at-large representative of the Illinois Health Care Association Constituency Group, serving a two-year term. She is also a member of the Supportive Living Cabinet for Illinois LeadingAge. She is a high-energy, passionate leader who cares deeply for her team and for the residents she serves. Her early career in nursing engendered in her a passion for seeing that seniors receive the care they deserve.
---
NIHAL SATYADEV
CEO & Co-Founder  |  The Youth Movement Against Alzheimer's  |  Age: 22
Nihal Satyadev wants to see more young people get involved in the fight against Alzheimer's disease, and he's working hard to make that happen. He is the chief executive officer and co-founder of The Youth Movement Against Alzheimer's (YMAA), which provides high school and college students with opportunities to volunteer, research, and advocate. In the last 18 months, YMAA has spread to 30 colleges and high schools, engaged close to 500 students, provided over 2000 volunteer service hours, and raised $10,000 for research scholarships.
As a member of the Alzheimer's Association's public policy team in 2014, Satyadev met a fellow team member whose life had been uprooted by the disease. Moved by the man's story, Satyadev attended the Alzheimer's Association's national policy conference the following spring. He was disappointed to find few young people at the conference. When he realized there was no national organization to inspire students to enter the fields of Alzheimer's and aging, Satyadev started YMAA to fill that gap.
Satyadev also is an avid researcher of neurodegenerative diseases. He is currently assessing a correlation between Alzheimer's disease and periodontal disease.
---
RADHIKA SINGH
Executive Director  |  Belmont Village Sunnyvale  |  Age: 30 
Radhika Sigh is a role model for senior living staff who aspire to advance their careers within the industry. Within a span of six years she utilized her education and work ethic to advance from part-time dining room server to executive director of Belmont Village Sunnyvale in Sunnyvale, California. She began her career in 2008 as a server at Belmont Village while she was a college student. A year later, Singh graduated from college with a Bachelor of Science degree in Nutritional Science. She continued to work at Belmont Village and was promoted to dining room supervisor and then activities program coordinator.
Meanwhile, she earned a master's degree in public administration with a health policy emphasis and joined Belmont's Executive Director in Training program. In 2014, Singh was promoted to assistant executive director and later that year moved into her current role as executive director. She is known throughout the company as an innovator and has developed and improved programs for care of residents with dementia and other cognitive challenges.
Singh continues to learn and grow as executive director. Last year she received a Certificate of Completion from the Argentum Executive Director Leadership Institute and completed the Senior Living Executive Course at the University of Southern California Davis School of Gerontology.
---
ANDREW SMITH
Director of Strategy and Innovation  |  Brookdale  
Andrew Smith, director of strategy and innovation at Brookdale, has led multiple outstanding innovation initiatives to address the needs of Brookdale residents and their families. These include piloting a Lyft ride-sharing model that allows Brookdale residents to request a Lyft ride without using a smartphone; the Entrepreneur in Residence program, which invites entrepreneurs to live in a Brookdale community for five days to design products with seniors; and the award-winning Rewiring Aging study, a first-of-its-kind study conducted in partnership with the Stanford Center on Longevity. The study measured the impact of technology on people over the age of 80. Its findings were published in the "Journal of Gerontology."
Smith's innovations extend to Brookdale's employee training programs. Early in his career, he researched, designed, and built the company's first scenario-based training program for its clinical assessment system. He also played a critical role in developing Brookdale's labor management platform, Service Alignment, to ensure the right service is delivered to the right resident at the right time by the right associate.
A tireless promoter of senior living, Smith is a regular speaker at industry events, writes blog posts for Brookdale and Aging 2.0, hosts interns from his alma mater, Vanderbilt University, and regularly speaks to classes of students at Vanderbilt to promote working in the senior living industry.
---
COLBY TAKEDA
Administrator  |  The Plaza at Waikiki  |  Age: 28
Colby Takeda became one of the country's youngest senior living administrators at the age of 25 when he was appointed to open The Plaza at Waikiki, The Plaza Assisted Living's newest senior living community. Beyond his operational leadership and business insights, Takeda's creativity is helping The Plaza realize its vision of changing the way people think about senior living.
Takeda partnered with two high school students to co-author "It's Just Aging," a children's picture book that introduces young audiences to some of the benefits and challenges of aging. He has integrated messages from this book into The Plaza Assisted Living's "Pages with All Ages" school and community outreach program to help foster aging sensitivity among youth and to strengthen connections between the 'bookend generations.'
In his previous position as activity director with the company, Takeda led The Plaza Photovoice Project, an innovative digital photography and expression program involving residents from four senior communities. The project was recognized as a "Program to Spotlight" in the 2015 Best of the Best Awards presented by Argentum. Recently, Takeda was awarded a national grant to conduct a walking evaluation and awareness campaign across the island of Oahu. This project involves participants from more than a dozen senior groups, senior living communities, and schools.
---
MATTHEW TURNER
Managing Partner  |  MorningStar Senior Living  |  Age: 38
Matthew Turner is a powerful force for growth at MorningStar Senior Living. In his initial role as chief financial and development officer for the company, Turner founded Ovation, MorningStar's affiliated real estate investment and development platform. In concert with MorningStar, Ovation has developed ten communities in three states with a combined value exceeding $400 million. In addition, Ovation currently has under construction or development seven communities in four states. All told, since joining the company in 2009, Turner has overseen the growth of the MorningStar/Ovation platform from four communities in Colorado to 28 communities in nine states comprising over 3,100 residences.
Now managing partner, Turner is dedicated to carrying out MorningStar's mission of creating progressive, thoughtfully designed, state-of-the-art residences in which seniors are served and loved. The company constantly studies its residents and communities to improve environments and programming to meet changing needs and expectations. Turner leads the company in its constant drive to find ways to do things better for the benefit of MorningStar's residents.
Turner is also a frequent speaker and contributor to industry events and publications.
Learn more about other opportunities for company and professional recognition and awards at argentum.org/awards.