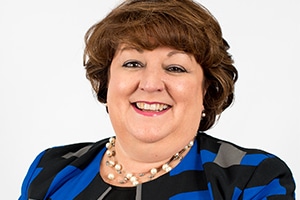 BRENTWOOD, Tenn.— Mary Sue Patchett, Brookdale's executive vice president of community and field operations, has been named to The Nashville Health Care Council class of 2020 Fellows. The class of 31 local health care executives will meet regularly to exchange industry experiences, challenges, and goals.
"It's an honor to join this class of esteemed and accomplished peers," said Patchett. "The health care industry in Nashville is booming with talent. Collaborating with local leaders and gaining insight into each other's areas of expertise will strengthen the industry as a whole."
The program's co-directors, former U.S. Senate Majority Leader William H. Frist, M.D., and health care management and economics expert Larry Van Horn, Ph.D., launched the initiative in 2013 as a means of connecting leaders within the industry. The five-month-long program is designed with a customized curriculum to engage health care's most influential leaders.
About Brookdale Senior Living
Brookdale Senior Living Inc. is the leading operator of senior living communities throughout the United States. The company is committed to providing senior living solutions primarily within properties that are designed, purpose-built, and operated to provide the highest-quality service, care, and living accommodations for residents. Brookdale operates and manages independent living, assisted living, memory care, and continuing care retirement communities, with 794 communities in 45 states and the ability to serve approximately 75,000 residents as of September 30, 2019. The company also offers a range of home health, hospice, and outpatient therapy services to over 20,000 patients as of that date. Sign up for news alerts at brookdalenews.com.