Emerging technologies are poised to disrupt the senior living market with an aim to enrich and enhance the quality of life and quality of care experienced by older adults. Many new innovations have the potential to transform the way health care and senior care is delivered, providing a win-win for the senior living business and industry consumers.
This year, a new feature in the Expo Hall at the Argentum Senior Living Executive Conference will introduce attendees to many of the innovative companies expanding services and options across senior living. The Start-Up Pavilion will include exhibitors such as Aging2.0, Autumn Asset Advisors, Balance Tracking Systems, CuePath, Daily Dental Care, Eldergrow, JP Healthcare Solutions, LifeBio, NextWave Care, Rendever, Senior Living Lifestyle Options, StaffBridge, and the Zack Rack.
Aging2.0
Aging2.0 was founded in 2012 and aims to support innovators taking on top challenges and opportunities in aging from social isolation to financial security to medication management. Aging2.0 is international, interdisciplinary, and intergenerational in its scope, and its employees and supporters are passionate about changing the conversation from local, clinical, and siloed approaches to collaborative, lifestyle-oriented, and opportunity-driven approaches.
Autumn Asset Advisors
Autumn Asset Advisors first entered senior living market market in 2016 with an aim to help seniors afford the care they need by providing funding alternatives. Family owned and operated, the organization is designed to help seniors convert their existing life insurance policies into a cash asset.
Balance Tracking Systems
New to the senior living market this year, Balance Tracking Systems provides a solution to one of the most important issues in senior health—fall risk. Their system, the BTrackS Assess Balance System, measures the balance and assesses the fall risk of senior living residents using a clinical-grade force plate system. The system works quickly and records results so a wellness professional can carefully monitor performance.
CuePath
CuePath first showcased their senior living solution to the industry market in September 2016. Their technology helps to improve medication adherence by working with pharmacies to organize medications in "blister packs," attaching sensors, and allowing loved ones or caregivers to access an online application to monitor adherence.
Daily Dental Care
Daily Dental Care introduced its oral care lozenges in 2017. The product aims to solve the oral care crisis existing among seniors and other populations by providing an alternative for those who have lost the ability to brush their own teeth. Daily Dental Care's goal is to make this product accessible to everyone, improving the quality of life for millions of people.
Eldergrow
Eldergrow has begun to expand nationally since it's entrance into the senior living market in September 2015. The company offers an innovative way to bring nature indoors, while simultaneously engaging residents through therapeutic horticulture. Expert educators facilitate classes for residents that range from plant propagation to garden art to culinary classes.
JP Healthcare Solutions
JP Healthcare Solutions entered the senior living market in July 2016. Their product, the EZ Lift Vest, provides a safer and more secure way to keep caregivers
and those receiving care injury-free during frequent transferring and lifting. The company was founded by two sisters who, while caring for their mother, determined that they needed a better solution for the physical challenges related to caregiving.
LifeBio
LifeBio recently expanded to the national senior living market, delivering tools to capture stories and training materials for key staff. Working primarily in senior living, memory care, hospice, and health care settings, LifeBio's technology helps communities bring resident stories to life and assists staff in delivering better person-centered, holistic care.
NextWave Care
Officially launching at the Conference, NextWave Care is a digital marketing agency serving the senior living industry. Their mission is simple: to help senior living communities achieve their occupancy goals through inbound marketing. NextWave Care produces customized programs to meet the needs and goals of each community they work with and produces content with prospective residents and their adult children in mind.
Rendever
Emerging in the marketplace in 2015, Rendever launched their first commercial product in 2016. The company focuses on providing unique and immersive experiences for older adults with their virtual reality software platform. They were recently featured in Argentum's Senior Living Executive magazine as one of 7 top innovations for seniors.
Senior Living Lifestyle Options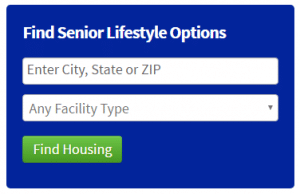 The online directory, Senior Living Lifestyle Options, first entered the scene in 2015 and was developed by owner, Lori Kuschel, to assist families and others searching for different senior living options. The website aims to provide an easy, single search tool for products, services, and lifestyle preferences. Communities along with any service or product company can get listed with no referral fee.
StaffBridge
New to the senior living industry in 2017, StaffBridge aims to simplify the scheduling process by providing software tools for coordination. Their software features a customizable, user-friendly design that helps to optimize personnel staffing. StaffBridge works to take care of employees, so employees can take care of their residents.
The Zack Rack
The Zack Rack is making its senior living marketplace debut at the Conference. Currently in the prototype phase, the Zack Rack is a carousel storage appliance that delivers items from varying shelving heights to an individual at a more convenient height. The Zack Rack aims to provide better accessibility, but also allows for more efficient storage solutions.