The music is pounding and people wearing blue t-shirts with "Dream Big!" inscribed on them are cheering and dancing in a video posted online. "It is the big dream lotto day," said one man in the video. "This year, we're giving away $50,000!"
This display isn't an excerpt of an afternoon talk show, but rather a company event Aegis Living organized last September at its headquarters in Bellevue, Wash. The man in the video (http://bit.ly/dblotto) described above is Aegis Living founder and chief executive officer Dwayne Clark.
The celebration, which Aegis streamed live to all of its staff in its 28 senior living and memory care communities across California, Nevada, and Washington, was the fourth employee giveaway of 2016. A life enrichment coordinator in one of Aegis' northern California communities won the $50,000 that day. Fifteen other staff members won $1,000. Their names were snatched out of the air by Aegis Living chief operations officer Tom Laborde, who stood in a clear booth with hundreds of strips of paper swirling around him.
Winners had to have worked for Aegis for at least three years, and the longer a staffer's tenure, the more tickets they could enter to win the lottery.
"Some people might think it's gimmicky, but this has a real impact on our people's lives," said Rick Karnofski, Aegis Living's senior vice president of human resources.
One of the first things the winner yelled out after winning the $50,000 was that he was "going to buy a house!" Meanwhile, a maintenance assistant used his $1,000 winnings to become a U.S. citizen. (The whole process, including the naturalization application, travel, and consultation with an immigration consultant costs about $1,200.)
Aegis Living can't give all of its 2,100 employees $50,000 bonuses, and it's hard to compete with neighboring employers like Microsoft, but the company does put forth a significant effort recognizing and appreciating its staff through awards such as this, bestowing extra earned vacation time for longevity of service, and by calling out employees' names for their years of service in its employee newsletter. The company also tries to address its younger workers' needs by making work life as lively as possible. Each community, for example, has a committee of employees who ensure that there's a "fun" activity available for their peers every day, such as bowling, picnics, or even go-kart racing. And employees can earn extra cash a number of ways, such as referring friends to the company as employee candidates, or by submitting ideas to management on how to improve the company's day-to-day operations. The company also distributed eight all-expense-paid vacations this spring. One winner was 80 years old herself and has worked at Aegis for 17 years. She planned to take her kids and a grandkid to Disney World.
Employee giveaways are just one component of an extensive matrix of benefits that top senior living workplaces offer their hardworking front-line staff. Others include the basics, such as a choice of affordable health care plans, dental insurance, 401(k) retirement plans with company matches, and employee assistance. But some companies also offer free wellness programs, pet insurance, bring-your-child or -pet to work options, adoption assistance, tuition reimbursements, extensive training programs and opportunities for promotion, as well as the occasional transportation benefit.
The goal is to offer employees choices that match the realities of their lives. Aegis' founder Clark illustrates the point explicitly in his book "Help Wanted." He suggested that senior living front-line workers can be categorized into three buckets: "younger workers," who are typically between 16 to 23 and who tend to focus on soft benefits like free food and having fun in the workplace; "career caregivers," who are older and who need the health insurance and retirement plans; and "volunteer workers," who may be middle-aged, but who are working the job because it fulfills their social conscience. These kinds of employees tend to want flexibility, Clark notes.
Other items, such as pet insurance, made it onto the benefits list because employees asked for it, says Judy Whitcomb, Vi's senior vice president of human resources and learning.
"This is back to choice, giving employees choices that are not incredibly expensive to offer," she says. "Every year we take the employee survey feedback and we look at our benefits and we look at enhancements, and we make tweaks."
Industry leaders' focus on promoting a strong company identity and culture by providing decent benefits (which often involves holding "fun" companywide events that bring staff together) is all part of the struggle to hang on to good employees who often hold tough jobs.
"The cost [of care] for the residents has to be realistic, and the care is the most important thing, but then we have to pay our employees a competitive wage and it can be tough to balance all of that—especially when they could go to jobs that are 'easier,' that are less emotional and hands-on," says Melinda Ericks, Carlton Senior Living's senior vice president of human resources.
Carlton is a privately held company headquartered in Concord, Calif. It operates 14 senior living communities around Sacramento, the East Bay, and in San Jose. The company serves about 1,375 residents and employs 1,000 people.
But employee engagement comes in different forms, and the key to one of them is finding people who find satisfaction in helping a more vulnerable population. Like many other companies, Carlton tries to do that by screening potential employees for their values and job suitability by assessing them through a Hartman Value Profile.
According to Gallup's 2017 State of the American Workplace report, only one-third of U.S. employees are fully engaged at work—i.e. they're passionate and are enthusiastic about their jobs. The remainder are either just going through the motions or unhappy.
The senior living industry—and the senior living industry in California in particular—just can't afford to run workplaces that don't attract and inspire new employees who want to stick around. Argentum's research has found that the industry is going to need more than 1.2 million workers by 2025. California is the neediest state with a projected requirement to hire more than 136,000 staff by 2025. The positions cover all staff roles from nursing assistants, personal care aides, waiters and waitresses, cooks, and housekeepers. (By 2022, the U.S. will have more people taking care of seniors than elementary school teachers, and almost as many as the retail industry, according to a Paraprofessional Healthcare Institute analysis of numbers from the Bureau of Labor Statistics and the Department of Labor. Continuing care retirement communities and assisted living communities will make up 39 percent of that growth in demand for labor.)
These trends are being driven by the tsunami of Americans growing older. Census national population projections predict that the number of Americans 85 and over will triple by 2050 to nearly over 18 million.
Putting Benefits In Context
Most top workplaces strive to build management teams at all levels that have proven that they have high levels of "emotional intelligence."
"Supervisors account for 70 percent of the variants in employee engagement scores. So really, benefits are wonderful, but they're the cherry on top," says Mary Swartz, Ebenezer's vice president of human resources. Swartz's sentiments reflected most of the human resources leaders interviewed for this article. "The real importance is training managers on how to instill that sense of support among the people that they supervise. So we have an emphasis on training our managers to be good emotional engagers of our employees."
Ebenezer is Minnesota's largest senior living operator and is part of Fairview Health Services. The Minneapolis Star Tribune recognized it as a "Top Workplace" for the past seven years, including in 2017.
"Engagement is a critical part of the benefits and perks discussion," affirms Gallup. "That is, if employees don't have great managers, if they don't know what's expected of them, or if they are not in roles that match their talents, then the longest possible list of perks is not going to be a cure-all. Employees on the fence in terms of engagement may actually regard pingpong tables and free meals as an empty gesture—a Band-Aid fix for a much bigger problem."
Senior Living Executive checked in with several leaders in the industry to see how they have worked to make their businesses attractive places to work. How have they gone about supporting their staff through the benefits they offer? How have they tried to help them grow? We talked to some industry leaders to find out.
Employee Giveaways
Aegis Living isn't the only senior living company that has set up such employee giveaways. IntegraCare, a privately-held company based on the outskirts of Pittsburgh, for example, organizes an annual Continued Attendance Rewards (C.A.R.) program.
The mission is to incentivize hourly employees to be on time, and to show up to work consistently. Every year, employees are assigned digital raffle "tickets" for each pay period for which they had perfect attendance and without any disciplinary actions. Full-time employees were assigned more tickets—and thus more chances to win. In addition to the chance to win a $100 gift card every month, employees have a chance to win a grand prize of a car once a year, along with $1,000, and a one-week paid vacation.
Other prizes awarded to eligible raffle winners included a 55-inch curved television and a one-year subscription to Netflix, or a laptop, printer, and a copy of Microsoft Office, or an iPad and an Amazon Prime membership. All of the awards included a one-week paid vacation.
The employee rewards and activities are forms of support not only for its front-line staff but also for executive directors of IntegraCare's communities, explains the company's co-founder, president, and chief operating officer Loriann Putzier. She also said that the awards were items that the staff had expressed an interest in having after being polled by the company.
"What the implementation of these programs is really saying to you is that this company is really connected to what the executive directors are doing," she says. "We're not putting them out there and saying 'good luck with that, and do whatever you need to do to keep everything going.' There is somebody behind you who is supporting the mission."
And that's important because "our business, the absolutely critical position is the executive director," Putzier says. "I could have all these programs, but if I don't have a good leader at the local sites, all those programs will fall by the wayside."
The C.A.R. program began in 2015 and has dramatically improved tardiness among its 500 members of staff in its 12 communities in Maryland and Pennsylvania, Putzier said.
Transportation
While not many of the top workplaces we spoke with offered transportation as a standard part of their benefits packages, the location of communities often has an impact on this benefit. In California's Bay Area, for example, local regulatory agencies require employers to offer employees tax deferred commuter benefits. Employees are eligible to set aside $255 a month for their commuter-related transportation costs.
At IntegraCare, Putzier notes that since Uber's corporate offering has matured in the past year, the company is looking into using the service to pick up employees. In the meantime, either shuttles or managers at local communities sometimes pick employees up from bus stops. That started happening because local governments had cut back on public transportation.
"What happened to some folks is that the bus line ended up not stopping as near to the community as before, so we'd have people walking a mile in the winter," Putzier said. "Some people would think they don't make enough money to make this worthwhile, so they quit."
And at Chicago-based Vi, the benefits package says that "where applicable," employees may use pre-tax money to pay for their commuting costs, including public transportation and parking expenses associated with their employment.
Erickson Living, headquartered just outside of Baltimore, helps several of its 3,000 high school wait staff get to work by picking them up at bus stops with its community shuttle buses (which are used for multiple purposes at its communities). Or, they'll buy bus passes for other workers.
"Our main objective is to make sure that we fulfill one of the things that we promised our residents, which is that you will have continuous, consistent care," said Joseph Machiote, Erickson's senior vice president of human resources. "So we really go out of the way to ensure that the employees are able to get to work in the least painful way possible, especially if they don't drive."
Family Benefits
Only 11 percent of U.S. workers receive childcare assistance from their employers, according to a 2015 U.S. Bureau of Labor Statistics National Compensation Survey. So that makes Silverado of Irvine, Calif. rather unusual. From the company's inception in 1996, staff have been allowed to bring their children—as well as pets—to work whenever they want. All of Silverado's 36 communities have playgrounds, kids can eat along with the residents without charge, and they often participate with the residents in daily scheduled activities.
Silverado has examined the academic research on the interactions between children and seniors, as well as animals and those with Alzheimer's disease and dementia. Children bring joy and engagement to the seniors, who often share their lives and experiences with the children.
"Over the years, the benefit had a hugely positive impact on the residents and on the children," says David Gill, Silverado's senior director of public relations and communications. "The residents feel that they're still part of society and the greater community, which is so important."
Meanwhile, academic research has found that interactions with animals often lowers stress levels and agitation experienced by those with Alzheimer's and dementia.
Dogs visiting Silverado communities must be well-behaved and have had the requisite shots. And they must get along with Silverado's resident canines. Each of its communities of 80 to 90 residents are also home to three to four dogs adopted from local shelters and three to four cats. Each community also usually has two aviaries and a big saltwater fish tank.
Anecdotally, Gill says that he's seen a lot of kids engage in activities alongside the residents, playing ping pong with them, or completing homework activities. One staff member brought her child to work on a regular basis from the day she was born. (Gill recalls that he once spotted her giving visitors a tour of the community when she was seven.) Another child whose mother is a caregiver at
Silverado's San Diego community became a caregiver herself. She is now studying to be a nurse. And another child's experience of "growing up" at Silverado with his mother as a community administrator has led him to ponder a career in medicine. Gill says that the young man has become interested in researching a cure for Alzheimer's.
For its part, Ebenezer in Minneapolis runs a faith-based intergenerational program in Burnsville, just south of Minneapolis, that is available to employees' children at a slight discount. The non-profit offers a preschool for babies and toddlers that includes daily visits and activities with seniors in Ebenezer's adult day program. Ebenezer has created a designated space to accommodate program activities, which includes things such as baking cookies together, playing games, reading together, and doing arts and crafts. They also go on outings together and make ceramics.
"It's not an unbelievable discount, but the parents know where their children are, and they can pop down and see them at lunch," says Ebenezer's chief operating officer Jon Lundberg.
Training
Training may be one area that distinguishes the senior living industry from others when it comes to attracting new employees.
Many of the larger senior living companies look to promote promising candidates vertically through their businesses in order to minimize downtime and the many costs associated with having to find and train the appropriate new employees. Promotions and training can also be, and often are, key parts of internal companies' management succession plans. Other smaller companies try to help employees in their careers by continually offering training that could help them land raises as they take on more responsibilities within their existing roles, or they switch roles.
Whatever the case, in order to attract Millennials, the largest demographic pool of workers out there, Gallup advises: "Organizations should ensure that their attraction and retention strategies highlight and deliver on learning opportunities, career-pathing, and performance management standards."
Vi, a luxury senior living company headquartered in Chicago, has spent the past decade retooling its company culture to reflect this approach.
Every single employee within its company has access to an "eCampus," with thousands of online courses that focus on personal career development relevant to an employee's work and field of specialty and beyond.
Front-line employees have the opportunity to participate in Vi's one-year Management Development Program that could enable them to land a leadership position. Vi also offers a six-month Emerging Leaders program for new leaders. Some of Vi's course materials and resources are presented in Tagalog, Creole, and Spanish because for many of Vi's employees, English is not their first language.
"Every year, we continue to look at every position and say: 'What else do we need to offer to support and develop the competencies and growth of our employees?," says Vi's Whitcomb.
One of Vi's leadership competencies is "employee development." Company, department, and individual goals include a focus on employee development, and managers are evaluated on the achievement of such goals. Compensation decisions are also tied to goals and the achievement of leadership competencies. That is designed to encourage managers to take a sincere interest in their reports' careers and to underscore the importance of Vi's learning culture.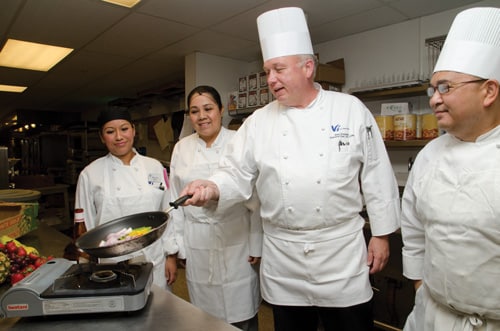 High potential employees have the opportunity to participate in Vi's year-long Breakthrough Leadership Program, which involves classroom training by Vi executives, graduates from prior programs, as well as faculty from DePaul University. Following a series of assessments and classroom learning, Breakthrough Leadership Program participants engage in a six-month virtual program through Harvard Business Publishing, which includes virtual learning sessions, online learning, and study groups. DePaul professor Robert Rubin produced a report last November concluding that given the magnitude of observed performance increases, Vi will realize an estimated return on investment value of $123,000 per career employee from this year-long program.
Learning opportunities, and the result of those opportunities, are published internally through an internal employee newsletter with employee career profiles as well as on Vi's career site. Senior leaders at Vi also highlight the importance of career development by recounting their own career trajectories through the company through online videos. The whole point of this process is to continually demonstrate and communicate to employees that Vi cares about career development.
"Some would say that it's expensive, but when you look at our retention rate, and the outcomes we experience, how can we not [provide all these resources]?" Whitcomb says. "It's about the quality of the care, the quality of the communities, how you take care of your assets—that's all part of the brand."
A 2016 case study of Vi's learning and development approach by Deloitte's Bersin unit reports that since it revamped its training approach, resident satisfaction with the service has increased to 94 percent in 2016 from 83 percent in 2010. Their rate of recommendations has also increased to 95 percent from 83 percent, and the company has seen better sales.
Aside from Vi's programs, many other top workplaces make sure that managers sit down with employees to discuss their career paths and options.
At Erickson Living, for example, employees and supervisors develop career plans together. Supervisors will assign their reports a mentor and direct them to take specific courses and reading material at Erickson University Online. The employees would also engage in several three-day live immersion training sessions to enable themselves to take the next step in their careers.
Paid Internships
Some senior living organizations have found that offering paid internships and training programs for university graduates is a fruitful way of recruiting talent.
Harbor Retirement Associates (HRA) of Florida kicked off a new internship program this year, for example, and St. Joseph's Rehabilitation and Residence in Portland, Maine has embarked on a program where it invited a few college students to live in its communities for free as interns while they worked as certified nursing aides or resident assistants.
LCS of Des Moines, Iowa, works with university graduates and places them in a one-year training program to train them to become executive directors of local communities. The one-year leadership training program also helps to bond the graduates together and strengthens their ties to the company, said Mark Heston, LCS' senior vice president and human resources officer.
Six to 10 individuals a year train through this program, and about 100 people total have gone through the process. The trainees work at local communities and then gather at LCS' headquarters for a week a few times per year to take classes from LCS leaders.
For its part, HRA partnered with several local universities in Florida, Michigan, and South Carolina to recruit interns who the company hopes will return to train to become executive directors of local communities. The interns work at three different HRA communities for about four months or the equivalent of one of their university's semesters. They work with and shadow staff in all of the local communities' departments and work to come up with a solution to a lingering community problem.
Kylee Hanson, an undergraduate of Florida Atlantic University, for example, came up with a labeling system for residents so that staff can better track down and find lost items. Amanda Wilson, another FAU undergraduate at the time of her internship, came up with several ideas to improve residents' dining experiences. One of them included soliciting residents for their favorite home recipes. Both interns presented their ideas to HRA's senior leadership and the managers of several of HRA's 25 senior living communities. The community managers implemented Hanson's ideas and saw a dramatic reduction in lost items.    
Wilson said that she knew nothing about the senior living industry before she undertook the internship, but the experience made her a convert. She graduated this May with a degree in healthcare administration and is working toward an MBA at Lewis University outside of Chicago.
"Prior to my internship, I had no experience in this industry at all," she wrote in an e-mail interview. "I went in completely blind and was hoping for the best. Through this internship, I ended up finding my passion for working with seniors in this industry."
She said that none of her friends knew much about the senior living industry, but that she would recommend her internship experience to anyone else thinking about doing it.
Natalie Cardenas, HRA's manager of associate growth and development, says that HRA has since taken on additional interns and hopes to ultimately place those who decide to return and who complete executive director-in-training programs in markets where it's hard to find candidates.   
Education Benefits
Many leading workplaces also offer financial assistance to help their workers further their education.
Brandywine Living, for example, currently offers its associates a $2,000 annual stipend for approved academic courses relevant to their careers. It also offers a scholarship of $7,500 a year for nursing school. Eligible employees must be full-time workers. Those who take Brandywine up on the offer must make a two-year commitment to stay on at the company.
The luxury senior living provider is thinking about restructuring the program, however, since turnover among its nursing staff is extremely low.
Instead, it's examining whether it should increase the general stipend to $3,000 or $3,500 and eliminate the fixed, annual $7,500 nursing scholarship.
The company also works out customized scholarship programs for staff across the company depending on the circumstances, said Pamela Hernandez, Brandywine's vice president of human resources.
"So if we identify somebody who works in dining, for example, and they might show leadership potential, we'll have that conversation with them about the potential of sending them to culinary school," she said. "They might not even have realized that as an option. We will put them through culinary school, and we'll hire them as a food services director."
Brandywine also pays for certificate courses for staff that want to gain expertise in a field that interests them that they could move to within the company. The company is also looking at partnering with Rowan University in New Jersey where its staff could take courses for credit as part of their internal company training.
The company likes to grow its own talent. In a recent new managers meeting, she noted, 25 of the 30 staff attending had been promoted from within.
For its part, Ebenezer offers $5,000 to $8,000 annual stipends for staff that want to strengthen their credentials. In some cases, the company will also buy down some of its staffs' student loan debt—up to $6,000 per year. Only four percent of companies offer a student loan repayment assistance benefit, according to the latest annual survey by the Society for Human Resource Management.
Crisis support
Several senior living companies administrate the equivalent of benevolent funds. The money helps staff who are facing dire situations, such as managing cancer treatments, paying for the costs of a funeral, rebuilding after a house fire, or other unexpected crisis situations.
Profit-sharing
Both Aegis Living and Benchmark Senior Living of Waltham, Mass. offer its associates profit-sharing bonuses based on the net operating income of the communities in which they work. Amounts vary depending on the company's financial results and the number of associates in each community.   
For all the talk of the need to offer decent benefits to stay competitive with other kinds of businesses, senior living human resources leaders interviewed for this article still universally believe that the opportunity to work a job that helps others will remain a big factor in attracting new candidates—as long as their companies can provide a hospitable workplace, that is.
"Our industry is competing for those 1.2 million workers against a lot of other companies like the Walmarts and McDonalds," notes LCS' Heston. "The one advantage we have is that we have meaningful work: It is meaningful to be able to care for and interact with seniors. [But] we as an industry have to do a better job of educating especially entry-level workers about the opportunity. If we can attract them to the industry, and we have good leaders, people will want to stay. That's how we'll win this battle for talent."