Presenting the 2018 Argentum Hero and Senior Living Community Leadership Award Winners
The annual Argentum Hero Awards and Senior Living Community Leadership Award recognize individuals who are ideal representatives of the hundreds of thousands of people serving across senior living and who showcase the highest levels of excellence, caring, and dedication. They are recognized each year at the Argentum Senior Living Executive Conference. Meet the 2018 winners.
2018 Argentum Hero: Nkeiru Uzegbu
Active Living Program Director
Merrill Gardens at Lafayette, Lafayette, Calif.
Merrill Gardens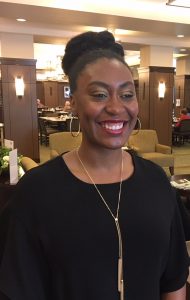 Those who work with Nkeiru (Ru) at Merrill Gardens at Lafayette in Lafayette, Calif., are in awe of her infectious spirit and her dedication to helping residents live their best day, every day.
"Ru is a mentor to many people at the community," said Rosa Campbell, general manager at Merrill Gardens at Oceanside and Ru's former supervisor. "No matter how busy she is, she is always willing to make time for anyone who has a question or just needs a little encouragement. She truly provides an inspiring environment for residents, families, and team members."
One example of Ru's commitment relates to a resident who was deaf and moved into Merrill Gardens at Lafayette. The resident's only form of communication was American Sign Language (ASL), but no one at the community knew how to proficiently sign. After asking the resident to teach her ASL, he agreed; Ru began to sign for him at community activities and even facilitated sign language classes for other residents and staff who had an interest in learning ASL. The resident became a key, engaged member at the community and experienced less communication-related frustration. When the resident passed away, Ru was there to sign for his friends at the memorial service.
"Ru defines going above and beyond the call of duty," said Campbell. "The passion that she has for the residents and this industry is to be admired. Whether she is personalizing a birthday celebration for a resident, putting together a resident slideshow for a loved one, or simply just sitting and having a conversation with a resident, she brings comfort and joy to everyone around her and we are very lucky to have her."
---
2018 Argentum Hero: Emily Horne
Life Engagement Manager
Autumn Leaves of Towne Lake, Woodstock, Ga.
The LaSalle Group
During Emily Horne's 15 years of work in retail, she always gravitated toward helping older customers. When she interviewed for an activities assistant job at Autumn Leaves of Towne Lake, she was hired on the spot—the executive director knew instinctively that Emily was the right fit. She was promoted to life engagement manager soon after.
Emily works with memory-impaired residents where her energy and positivity are both necessary and appreciated by residents and staff alike. In fact, she is known as "The Sunshine of Towne Lake." Her passion for working with residents is evident, and she goes above and beyond daily. When Emily learned that a resident couple had been founding members of a local church and realized the importance of a spiritual connection for them, she organized a non-denominational Sunday service at the community—which delighted the couple and their family. When she felt they needed more, the family allowed Emily to take them to a nearby church service, even on her days off. While the couple has since passed, the family is forever grateful for Emily's care and devotion.
Emily always puts others first. As a recent snowstorm approached, she invited a team member to stay overnight at her home near the community. Although she was not scheduled to work, she didn't want any interruption in the residents' scheduled activities. When the snow rendered driving unsafe, Emily bundled up her husband and two kids, and walked with her colleague the two miles to work. Of course, she ended up staying the day when she realized her team needed extra help.
"I have never witnessed such energy, enthusiasm, and outright commitment from anyone as I see from Emily. She is truly inspirational," said Angekia Scott, executive director at Autumn Leaves of Towne Lake.
---
2018 Argentum Hero, Leadership in the Face of a Natural Disaster: Lisa Thomas 
Life Enrichment Coordinator
Sabine Place, Orange, Texas
Enlivant
When Hurricane Harvey tore through Texas in August 2017, residents and staff at Enlivant's Sabine Place in Orange, Texas, thought they had been spared. But not long after the rain stopped, the Cajun Navy was at their doors, informing them they'd need to release the nearby levy, which would force an evacuation of the community. The Cajun Navy began evacuating all 23 residents via boat to a church down the road. That evening, the staff and residents loaded onto buses with an eventual destination of a Hampton Inn hotel in Jennings, La., where they stayed for a month after learning their community was severely damaged. Following that stay, a sister community, Bailey Place, in Bunkie, La., was able to offer the residents another temporary housing solution for the next two months. Their last stop was Rose Place, another Enlivant community in Port Arthur, Texas, where they stayed until moving back home to Sabine Place nearly five months after Hurricane Harvey hit.
When Hurricane Harvey made landfall, Lisa Thomas, Sabine Place life enrichment coordinator, was trapped at home with her family due to flooding. Just three days later, when roads cleared, Lisa joined her colleagues and residents at the Hampton Inn. When she arrived, she worked 12- and 24-hour shifts to allow other staff to rest who had been caring for the residents since the evacuation. Lisa quickly realized supplies were running out and morale was running low. She coordinated with local churches in the area whose members were willing to bring hot, home-cooked meals for breakfast, lunch, and dinner for the residents. She also secured donations for clothing, basic sanitation items, and even supplies for arts and crafts projects. When the move to Bailey Place came, Lisa arranged for a beautician to visit the residents to give haircuts, and while at Rose Place, the community was without a life enrichment coordinator, so Lisa gladly took on double duty, designing and scheduling activities for both communities.
Lisa made a lasting impact at Enlivant's sister communities during their temporary stays.
"If anyone deserves to be recognized it would be Lisa Thomas," said DaLana Douzart, executive director at Bailey Place. "She touched our hearts and we will forever stay in contact with her. She is one of a kind."
---
2018 Senior Living Community Leadership Award: James Arp
Executive Director
Belmont Village Westwood, Los Angeles, Calif.
Belmont Village Senior Living
Through his passion for connecting with residents, establishing community outreach programs, and supporting professional development for employees, James Arp, executive director at Belmont Village Westwood in Los Angeles, Calif., has created an exceptional community environment that's hard to top.
Since 2014, James has led the community into the Belmont Village Presidents Club, which signifies 100 percent occupancy at the end of each month—that marks 43 consecutive months at full capacity, with a waiting list. Recent surveys have also shown that 100 percent of Westwood residents said they are given the opportunity to build friendships with other residents, while 94.8 percent said they were satisfied with the level of care they received.
But anyone serving in senior living knows it's never just about the numbers. Under James's leadership, Belmont Village Westwood has also become very involved in supporting the greater community, establishing a partnership with the Los Angeles-based JVS, a non-profit organization that helps bring people out of poverty and locates career opportunities for them. James even offers entry-level jobs in caregiving to the reliable and passionate hard workers who complete JVS HealthWorks® CNA training.
"His commitment to community makes him a leader and role model for his team inside and outside of Belmont Village Westwood," said Susan Berger, director of sales and marketing for Belmont Village Westwood.
James also encouraged his management team to get involved by volunteering at a local food bank. Now, the team volunteers quarterly not just at the food bank, but by visiting VA patients and delivering much needed toiletries and other items, assisting with the Meals and Wheels program, and volunteering at the LGBT Senior Prom, among other activities.
James's spirit of caring was exemplified by his actions during the California wildfires that ravaged parts of state in 2017. When sister community, Belmont Village Albany, was impacted by the fires, James took in residents from other area communities and volunteered on weekends to manage the memory care neighborhood during 12-hour shifts.