By Sara Wildberger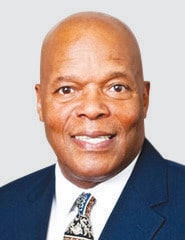 The Multicultural Foodservice & Hospitality Alliance (mfha.net) is an educational nonprofit and affiliate of the National Restaurant Association. The organization celebrated its 25th anniversary in 2021. Its charge is to make the business case for diversity and inclusion in food service and hospitality and to advocate for career opportunities for people of color.
The founder and president of MFHA, Gerry Fernandez, was one of the first to focus on this business case. After a career climb that included opening the first Capital Grille in Rhode Island, Fernandez was serving in research and development for General Mills when he got the idea for an organization supporting people of color in food service. General Mills backed the idea, and Fernandez continued to build MFHA, and moved it into an independent organization.
Here, vice president of operations Andre Howell goes into some of the concepts introduced by MFHA. This interview has been edited for length and clarity.
Q. Can you explain the basics behind the business case for diversity, equity, and inclusion?
A. If you're not able to effectively communicate across generations and cultures, ultimately, you're leaving business opportunities on the table. If a customer doesn't feel welcome, there are multiple other choices for where to dine and spend their time.
We talk a lot about the importance of being able to create an environment where people are comfortable.
Gerry does this at a lot of his workshops, and I love it every time: He takes out three $10 bills and says: One bill came from a white customer, one came from a black customer, and one came from an Asian customer.
Then he asks the audience if anyone can tell who each bill came from. The obvious answer is that nobody can. And his follow-up question is: How many of you want to risk not being able to get one of these bills?
The idea is that we have to treat people with the dignity and respect they deserve. And we have to take that extra step forward, beyond the golden rule to the platinum rule: Treat people the way they want to be treated, not necessarily the way that you think they should be treated.
Q. MFHA refers to the "dinner table of opportunity"—can you talk about that concept?
A. One of the first things Gerry looked at was best practices for success. He used the idea of a dinner table and hosting. Who are the important people who need to be sitting around the dinner table?
He identified four essential constituencies: Workforce, customers, community, and suppliers. Your program might be okay if it has workforce and customers involved, but if it's not the community and the suppliers, it won't be best in its class.
You need to understand the customer perspective: What's important to them, how they like to be treated, how they like to be interacted with. Same with your workforce—it needs to reflect your community and have internal processes that make people feel a sense of belonging.
And you can't successfully do business and have a presence in the community without making yourself a part of that community: supporting it, understanding what's important to that community, offering jobs throughout that community. A diverse workforce shows that community what success looks like. And the more you engage with that community and show them what success looks like at your workplace, the more likely the community-based organizations are going to send people who fit the criteria and have that purpose.
Q. What are some of the challenges in food service today?
A. I'll just take this example: We've got boomers working part-time, semi-retired, or full-time. You've got generation Z at high-school age, and the millennials. And they all come to work at the same time, and they share shift work.
The generation Z and millennials are saying, oh, these boomers are so slow, they don't understand technology. And the boomers are saying, you kids don't take your jobs seriously, you don't pay attention to details. Then we ask a 23-year-old shift manager to manage all of this—and to do exceptionally well.
We also expect that a 19-year-old who might be taking abuse from a customer who maybe just doesn't like dreadlocks or tattoos to be able to come up with the de-escalation techniques to deal with that.
We believe companies that invest in the training and cultural insight are the ones that are going to do better, at the end of the day.